A love of sports and a passion for entrepreneurship prompted the doctor to move her family from Texas to Kentucky to make the most of the i9 Sports franchise opportunity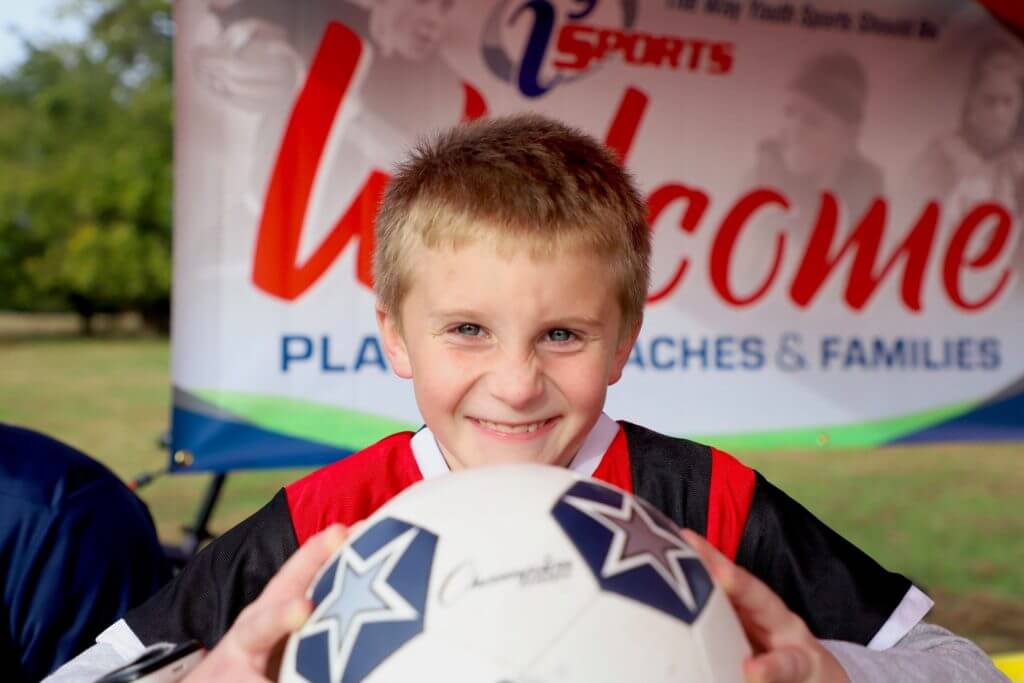 Dr. Michelle Mudge-Riley knew from the start that she wanted to run her own business, and she also knew she'd want to stay involved in sports. So, when her son started playing with i9 Sports in their then-hometown of San Antonio, Texas, she got a good look at the organization up close. And the more they looked, the more they knew this could be the rewarding franchise opportunity she'd been looking for. She tells her story in this i9 Sports franchise review.
When did you become an i9 Sports franchisee?
I purchased an i9 Sports franchise in March of 2019.
What were the two of you doing before that?
I am a physician by training, and I was running two other businesses that I actually started myself while also on faculty for Trinity University down in San Antonio.
What prompted you to look into this particular line of work?
I've been in sports my whole life. I played soccer and then switched to running, and I've been running marathons for decades. I've also been running businesses for a while and I was really looking to increase the diversity of what I was doing. I wanted to grow a larger business and learn a little more about managing people and building processes and implementing those.
When my son played with i9 Sports in San Antonio, I learned about the company and really believed in the mission. That was another reason why I really wanted to take my career in this direction with this particular franchise. Helping kids succeed in life through sports is just something that I believe in with my whole being. And so those two reasons were enough for me to really start looking seriously at the franchise.
Did you ever take a look at other sports franchises?
I looked at a number of different franchises. Actually, I started looking at franchises probably about five years ago, and never pulled the trigger because I couldn't find the right franchise. When I started looking at i9 Sports, it was just another thing I was looking at as an entrepreneur. I'm always looking at new directions, new things, new opportunities. I didn't know if this would end up working out or not. But here we are. It definitely did.
Where is your franchise located?
We're located in Louisville, Kentucky. I relocated my family to purchase a brand new i9 Sports. There had been an i9 Sports here 10 years ago, but no one really knew what i9 Sports was yet. We're catering to a brand-new audience. There are a lot of obstacles with starting something new, but it's a lot of opportunity as well. Again, I've started several businesses from scratch so that didn't scare me.
Do you still operate other businesses or is this your whole focus right now?
Right now, I'm working full-time in this business. I've taken the other businesses and put them on the back burner.
What sports are you offering in your franchise right now?
We are offering six different sports right now. We offer basketball, soccer, flag football, T-ball/baseball, and this year we'll be offering ZIP Lacrosse™ and Volleyball for the first time.
How has your entrepreneurial experience helped you be successful with i9 Sports?
It's helped me to understand that this is a marathon and not a sprint, pardon the pun. It's something that you have to spend a lot of time on, put a lot of energy on up front and the payoff will be there. But you have to be willing to not get so caught up in the short-term wins because it is a long game. That's been a good thing for me to know. It helps me remember that things will eventually grow even though sometimes you feel like you're beating your head against the wall or experience slow times.
How do you feel about your progress so far in terms of your financial goals?
We've just spent hours and hours looking at financial projections, and we have put together a five-year plan and a very detailed three-year plan. Complete with a cash-flow analysis and a profit-loss statement. If we stay on track with our goals, this will absolutely more than break even by the end of 2020.
Right now, in our five-year plan, we have planned for growth. How we do that includes expanding to best serve our current community as well as exploring the option to purchase additional territories.
As you have been ramping up over this first year, what have been some of the most valuable things HQ has done to support you?
Headquarters does a lot for us. The business coach has been very helpful. All the business coaches are available if we have any questions, and they're available in the off-hours, during deadline week, right before opening days, times when it's very critical for us to get questions answered. Not only long-term strategic questions, but tactical questions, like how to do this or that and when you're new in any business that's so helpful. The other thing that's been very helpful is the fact that the home office really is focused on more of the bigger picture of growing new partnerships, providing the franchisees with sports resources and including the online software system that we use to create rosters and build our teams and run our programs. So, we don't have to think about that kind of stuff.
When I had my other businesses, I had to build all those things or find someone to build those things and I had to worry about them and deal with them while I was also growing my business. With i9 Sports, I'm able to focus more on growing my business, creating partnerships locally, gathering sponsorships, getting registrations, providing that excellent customer service.
What do you find to be the most rewarding thing about running an i9 Sports franchise?
I think it's the relationships that I've built both with the other owners and with the families who play with us. Even though we've only been operating for about nine months, we've already built some really neat friendships with coaches who have volunteered to coach different teams and with the moms and dads that have come out for the first time and had their kid playing with us. We've learned from them just through the questions that they ask and the comments that they give us. The smiles that we see on game day and even in the off-season when we run into people in town has been the most rewarding thing. Just knowing that we're building those relationships and again, helping kids succeed in life through sports.
What kind of support do you get amongst the other franchisees? How often are you in touch with them? Do they help you out?
That's a yes with a capital Y-E-S, we are mentored by multiple franchisees. We have reached out to them and they have been so supportive. That has been a neat surprise because when we were doing our validation calls, we had great calls and we felt like, wow, this is a really supportive group of people. But when you get into the practical day-to-day stuff and you're running a business and they're running a business and we're all busy, it's not always like that. I wasn't sure if that support would continue, but it has; I mean it's been even stronger. We have multiple franchise owners that have been in the business for years and years, some over a decade, that are willing to talk to us any time and answer questions, help us with practical things, help us with strategic planning. I've already made some amazing friends that I think will be lifelong friends.
If you were to talk to a prospective buyer, what would you say makes i9 Sports a good investment?
In addition to the other things that I've already mentioned, I would also include the fact that it's got very low overhead, which makes it a good investment in my mind. You have equipment and jersey costs, but we don't have to cover rent anywhere. We also have part-time and seasonal employees, and that means we're not paying full time labor costs for the entire year.
Is there anything else that would be important for a prospective buyer to know?
I think it's important for prospective buyers to know that, despite their frustrations and obstacles that they're going to encounter in the first couple of years in any new business, it's really rewarding very quickly. We've already had those feelings of reward and accomplishment, even though we haven't been in the business for a whole year yet. It's like most things in life — you get out of it what you put into it. That's really proven to be true. And the more time we put into it, really the more we get out of it.
Learn more
To find out more about the business opportunity with i9 Sports, fill out the form on this page to download our free franchise report. You can continue exploring the i9 Sports offering on our website.